A Perfect Fit: Chris Wright and Commercial HVAC Customers
The Metal Press goes one on one with Chris Wright, Chicago local and Nationwide Coils Midwest Account Manager. Get to know Chris and how he takes a personal approach to serving customers and fitting coils.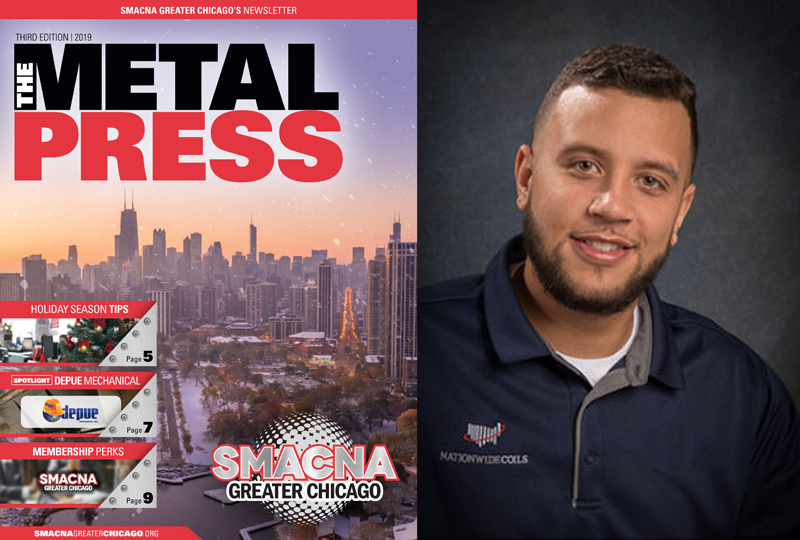 Associate Member Spotlight: Keeping Your Facility Running in Peak Condition with Nationwide Coils
Nationwide Coils has served customers throughout the country as a commercial HVAC manufacturer and supplier of custom and OEM replacement coils for 15 years. The company's headquarters was founded in 2004 in Westchester, New York, and has since expanded to include satellite offices in Manhattan, Florida and the Chicagoland area.
The company's Midwest operation is steadily growing with the 2018 addition of Chris Wright, Chicagoland account manager. Most days, Wright can be found moving from facility to facility, meeting his Chicago-area clients in person and getting a better look inside their units.
"As far as I know, there are not too many manufacturers in Chicago sending their people for personal site visits," Wright said. "A lot of times, companies just go off the catalog descriptions and hope everything matches up, but I'm here to meet with people face-to-face, check out their equipment and offer customized solutions that will benefit their business in the long run."

Nationwide Coils prides itself on its versatility and ability to quickly recognize opportunities to better serve each customer's needs. Their fast lead times and 24/7 availability make them the best choice to respond during emergencies and be able to meet critical time requirements. Plus, Wright's close proximity to Chicagoland clients means he can easily gather the performance and capacity data necessary to ensure clients get the exact coil design and construction for their unique application.
"I encounter a lot of mechanical engineers and lead installers who have been taking on the added burden of figuring out whether they have the right or most efficient equipment by themselves, and they shouldn't need to," Wright said. "That's my job. Let me worry about that, while you focus on taking care of your job site and your customers."
In an ever-changing industry, maintaining reliable operation and control of critical HVAC units is a top priority for customers. That's why Nationwide Coils stays on top of the latest technology and industry advancements — and in some cases, sticks with tried-and-true methods.
"We're rolling out this concept called changing the channel, where we're able to perform microchannel conversions," Wright said. "A few years ago, a manufacturer developed a microchannel condenser coil that left end users with a number of issues, including repair difficulties and poorly functioning units. Now, we're converting customers back to the standard copper tube aluminum fin construction that has proven more reliable. The exciting news about this change is that it can be done with many OEM models."
Since joining SMACNA Greater Chicago as an Associate Member last year, Wright has attended a number of events to network and gain exposure with potential clients, including last spring's YES event at K1 Speed, our Summer Outing at Wrigley Field and September's Industry Night.

"For us, the biggest thing is exposure and letting contractors know who we are and how we can help," Wright said.
"I want SMACNA Greater Chicago members to know I'm available to work with their needs and their budget. No matter their specs, they'll always receive personalized service and a customized solution."