Chilled Water Coils
Tube-and-fin heat exchangers usually consisting of 4–12 rows of tubes that pass through sheets of formed fins bonded through tube expansion with entering water temperatures ranging from 40˚-55˚.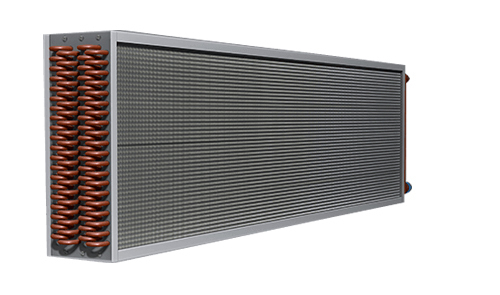 Tubes
Materials
Copper
Cupro-Nickel

Stainless Steel
Sizes
Wall Thickness
3/8" & 1/2"
• 0.016
• 0.020
5/8"
• 0.020
• 0.025
• 0.035
• 0.049
Fins
Materials
Aluminum
Copper

Stainless Steel
Specifications
3/8": 10-20 FPI
1/2": 6-16 FPI
5/8": 6-14 FPI
Fin Thickness
Headers
Materials
Copper
Cupro-Nickel

Stainless Steel
Casing
Materials
Galvanized Steel
Stainless Steel
Frequently Asked Questions
Does the airflow matter when replacing a chilled water coil?

Yes, airflow matters. Water coils need to be piped for counter flow with the return being on the entering air side of the coil and the supply being on the leaving air side of the coil. This allows the return water to temper the warmest entering air getting it closer to its set point prior to leaving the last row where it will see the coldest supply water temperature. The reason for this is counter-flow which maintains the maximum temperature difference across the coil throughout the time the air is passing through the coil. Without proper counter-flow there will be capacity loss estimated at 1-2% per row.
What is the best way to help with moisture problems on a chilled water coil?

You want to make sure you don't go over 550 FPM on the face velocity. If your coil fin height is above 42", an intermediate drain pan should be utilized. If 550 FPM of face velocity cannot be achieved, then moisture eliminators may need to be mounted on the leaving air side of the coil.
How do we count the rows on a water coil?

Rows are counted horizontally across the coil. Even though tubes are staggered horizontally they are not staggered vertically, each section of vertical tubes counts as a row.