Condenser Coils
Built to rigorous specifications for efficient heat transfer that's ideal for outdoor use. We place an emphasis on brazed connections to combat thermal expansion, as well as harsh environments.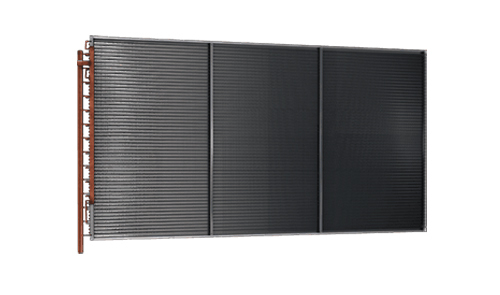 Tubes
Materials
Sizes
Wall Thickness
3/8" & 1/2"
• 0.016
• 0.020
5/16"
• 0.016
Fins
Materials
Fin Thickness
Aluminum
• 0.006
• 0.008
• 0.010
Casing
Materials
Galvanized Steel
Stainless Steel
Frequently Asked Questions
Can Nationwide Coils make bent condenser coils as well?

Yes, Nationwide Coils can manufacture bent condenser coils. It is the same process as building a normal condenser coil except for two extra steps. Each fin pack for each individual row is a separate length to account for radius loss in the bending process. This ensures each fin pack will be of equal length when the coil is completed. The coil also goes to the bending station to match exact OEM specifications.
Can Nationwide Coils convert a microchannel coil to a copper tube, aluminum fin application?

Yes, completing microchannel conversions is a common practice. We size for minimal efficiency loss and additional refrigerant will be needed for proper unit operation.
Do I need to have anti-corrosion coating for my condenser coil?

No, corrosion coating is not necessary and is usually utilized for geographical locations close to salt water or areas where there are high concentrations of corrosive contaminants in the air.