ThermiCoil™ Insulated Coil Sections
ThermiCoil insulated casings are suitable for refrigerant and hydronic applications and can accommodate a wide range of airflows. The ThermiCoil design is often applied to provide additional cooling to an existing HVAC system.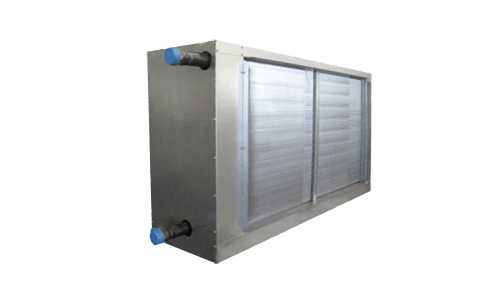 Standard Box Construction
16- and 18-gauge galvanized sheet metal housing (unpainted)
1" insulation, 4.2R valve
18-gauge stainless steel drain pan
1" stainless steel MPT drain pan connection
Offset fin pack to maximize performance and drainage

1 ½" duct flanges on entering and leaving air side of coil housing
5" connection stub-outs on all coil models
Double pitched drain pan to prevent standing water
Individual connection covers and gaskets minimize airflow through casing connection holes
ThermiCoil Options
Pre-painted (gray) and caulked
Custom Sizes Available
3/8"
• fin length = up to 90"
1/2"
• fin length = up to 90"
5/8"
• fin length = up to 90"
5/16"
• fin length = up to 90"

Frequently Asked Questions
What type of coils can be used with this application?

Coil Sections are fully enclosed and insulated coil housings that can be used for hydronic or refrigerant applications. They can be designed to fit any specific requirements and meet all indoor air quality standards.
Can these coils be made custom for outdoor use?

Coil sections can be used outside. When designing for outside use it may be recommended to use a stainless-steel housing and it is required to have all outside joints applied at the factory.