Steam Distribution Coils
Also known as non-freeze steam coils, they are designed for low temperature applications consisting of one header, a tube-within-a-tube configuration and steam jets that pass the steam from the inner tube to the outer tube.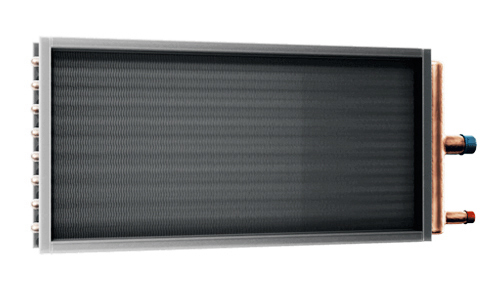 Tubes
Materials
Carbon Steel
Copper
Cupro-Nickel
Stainless Steel
Sizes
Wall Thickness
.025": 1-25 PSIG
.035": 25-75 PSIG
.049": 75-125 PSIG


Fins
Materials
Aluminum
Carbon Steel

Copper
Stainless Steel
Specifications
5/8": 6-14 fpi
1": 6-12 fpi
Fin Thickness
Aluminum
• 0.006
• 0.008
• 0.010
Headers
Materials
Carbon Steel
Copper
Cupro-Nickel
Stainless Steel
Casing
Materials
Galvanized Steel
Stainless Steel
Frequently Asked Questions
Do "Non-Freeze" Steam Distributing coils mean that they can't ever freeze?

Freezes generally do not occur. However, if the system is not maintained properly and/or installed incorrectly, the steam coil can freeze.
How can we prevent a steam coil from freezing?

Check to make sure there is proper pitch of 1/8" per foot. This allows for proper condensate flow which is critical for making sure the coil does not freeze. Checking your steam trap and vacuum breakers to be certain they are operating correctly and installed properly will also help.
When should we use 1" tubes instead of 5/8" tubes?

5/8" OD Steam Distribution Coils should have a fin length of less then 72".
1" OD Steam Distributing Coils are used for fin lengths over 72". If the coil has a finned length of 120" or longer, dual supply setup is recommended.