DX Evaporator Coils
Designed to be used in air-side applications for cooling, heating and dehumidifying with various circuiting options, as well as face split and intertwined designs.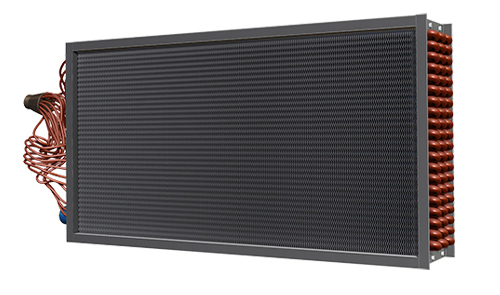 Tubes
Materials
Copper
Stainless Steel
Cupro-Nickel
Sizes
Wall Thickness
3/8" & 1/2"
• 0.016
• 0.020
5/8"
• 0.020
• 0.025
• 0.035
• 0.049
5/16"
• 0.016
Fins
Materials
Aluminum
Copper
Stainless Steel
Specifications
3/8": 10-20 FPI
1/2": 6-16 FPI
5/8": 6-14 FPI
Fin Thickness
Aluminum
• 0.006
• 0.008
• 0.010
Headers
Materials
Copper
Cupro-Nickel

Stainless Steel
Casing
Materials
Galvanized Steel
Stainless Steel
Frequently Asked Questions
Does Nationwide Coils provide TXV valves with their DX coils?

We do not supply TXVs with our DX Coils. We have distributor model numbers that are utilized to purchase a TXV at your local supplier.
What is the difference between a circuit face split coil and a circuit intertwined split coil?

The difference between a face split coil and an intertwined coil is the ability to condition the entire air stream while utilizing the individual circuits. A face split circuit is a horizontal split across the fin length that can be designed for 50/50 capacity split or varying percentages. This means that if only one circuit is running you will have non conditioned air mixing with conditioned air. Intertwined circuits allow full conditioning of the air stream with independent circuits be utilized.
Do you need to know what refrigerant type is going to be used for the DX coil?

Yes, we need to know the refrigerant so that we can properly design the coil. If we are duplicating a DX coil, we need to know the refrigerant and specify the correct nozzle size for proper operation.