Check out the latest issue of MACC News featuring Nationwide Coils.
After an unprecedented year, we were happy to share how we weathered the COVID-19 crisis. Click to see our excerpt from "Meeting the Challenges of COVID-19: MACC Members Reflect on Their Experiences of the Past Year."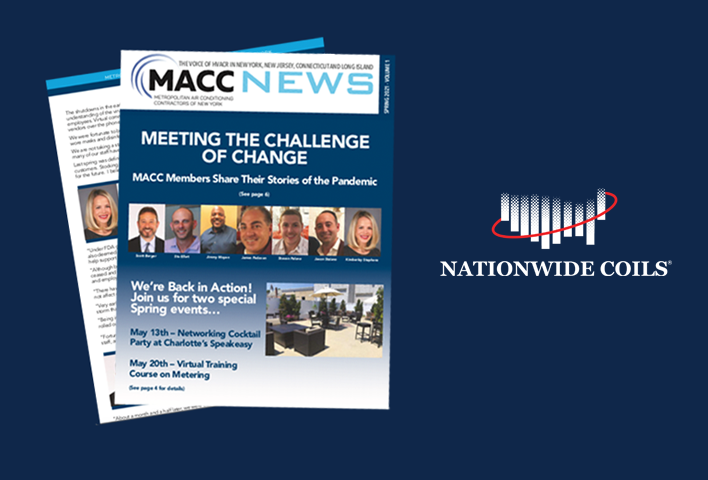 It's been over a year since COVID-19 became a global pandemic and shut down our world. No one knew then how profoundly it would change nearly all aspects of our lives. While safety protocols, CDC guidelines, and virtual communications remain an essential part of daily existence, the initial fears and uncertainty surrounding the pandemic have given way to action, renewal and recovery among MACC members, including Nationwide Coils…
How was your business impacted in the early months of the pandemic?
Under FDA guidelines, we were classified as an essential business and we continued to serve our customers, many also deemed essential businesses. Hospitals, in particular, which were on the frontlines of the crisis, relied on us to help support their indoor climate control needs.
Although business did slow down compared to those months in 2019, we were fortunate that production never ceased and we continued to run at full capacity throughout the crisis. Although we tightened up corporate spending and employee allowances, we were able to maintain a full staff.
Were you impacted by COVID-19 in terms of employees testing positive, and how did you handle it?
There have been some positive cases of COVID-19 and those employees quarantined per CDC guidelines. It did not affect operations and we weathered the storm as a team.
When did you start seeing a significant improvement in business, and in what ways?
Very early in 2021, we did not see a significant improvement in business but remained status quo. The mid-February storm that struck the central U.S. and Texas particularly hard, has escalated business significantly.
Being in business for almost two decades now, we've learned to accept the highs with lows. With vaccinations being rolled out, we are hopefully in the home stretch.
How is the year ahead looking?
Fortunately, the year ahead is looking bright for Nationwide Coils. We've taken on some larger contracts, increased staff, and are excited to be moving our NY headquarters to larger space."