Nationwide Coils Attends the Synergy 2021 Construction Forum.
Join Chris Wright of Nationwide Coils as he presents to attendees at the Synergy 2021 Construction Forum in Chicago, IL.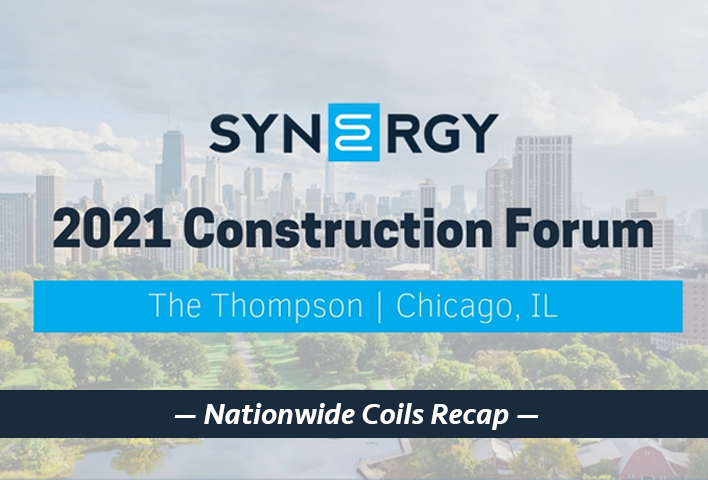 Throughout the year, Synergy Solution Group actively puts together a range of forums and events that can benefit their associates and partners. It's a time to network, connect and share ideas. When Kathy Gausselin, Member Support Specialist at Synergy, reached out to us to see if we would like to participate with a short presentation about our company, we jumped at the opportunity. It was a perfect fit for Chris Wright, Chicago Branch Manager at Nationwide Coils, since he is local to the area.
The forum was a 3-day event, held July 25th — 27th, targeting VPs, project managers and operations managers across the construction industry. As this covers a large portion of our client base, it was an excellent opportunity to remind attendees on what Nationwide Coils can offer their business.
Brad Miller and Chalo Cipriano, Project Managers' from ACIS, provided an introduction for Nationwide Coils before Chris took the floor. Brad began with a generous shout-out to Nationwide Coils for coming through after the Texas storm in February, in addition to consistent and dedicated service for the first half of the year. Brad and Chalo were even as generous as to highlight a more recent project consisting of 30 coil changeouts that was completed just the day before without issues! Chalo was sure to mention that our precise dimensions and connection locations of the coils, assisted the field with convenient and painless coil installations.
Check out the success story from Brad Miller at ACIS:
The HVAC industry and coil manufacturing lead times have had their struggles in 2021. We have done our best to pull through for our clients and we do see some solid recovery on the horizon. It is always rewarding to hear that our clients appreciate the effort we put in. We sincerely thank Brad and Chalo for sharing the positive and encouraging feedback with the attendees at this forum.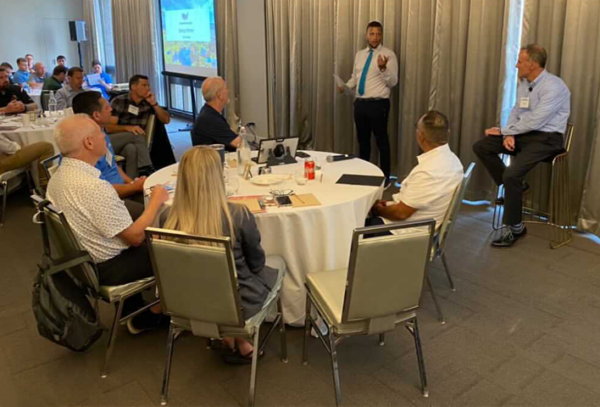 Chris then took the floor to talk about Nationwide Coils and what our company can do for customers, while also focusing on our team and branch locations with dedicated, local representatives. One question asked: "What about locations where you don't have a representative?" Good question! At Nationwide Coils, we serve clients across the US and Puerto Rico, many residing outside of our branch map. We work closely with customers to precisely capture measurements utilizing pictures, our industry-leading software and comprehensive database of coil drawings. If necessary, a site visit can be arranged. That being said, our team is constantly assessing locations for our next branch to bridge those gaps in less accessible regions.
Putting business aside, Nationwide Coils also sponsored the break between presentations, treating attendees to some much-needed goodies. Thank you to the Synergy Group for making this event happen and giving Nationwide Coils the opportunity to connect with members. It is always great to get to know clients in person and have the chance to build new relationships.