Passion, drive and a slight obsession with sneakers: Ross Stephens; Synergy Partner Spotlight.
As Founder and President of Nationwide Coils, Ross Stephens spends most of his days (and nights) in the nitty-gritty of running and growing the business. But who is the man behind this industry-leading commercial coil business, and why on earth did he get into coils to begin with? In this refreshingly personal interview, presented by Synergy Solution Group, you'll learn a little more about Ross, what's on his mind — and his feet.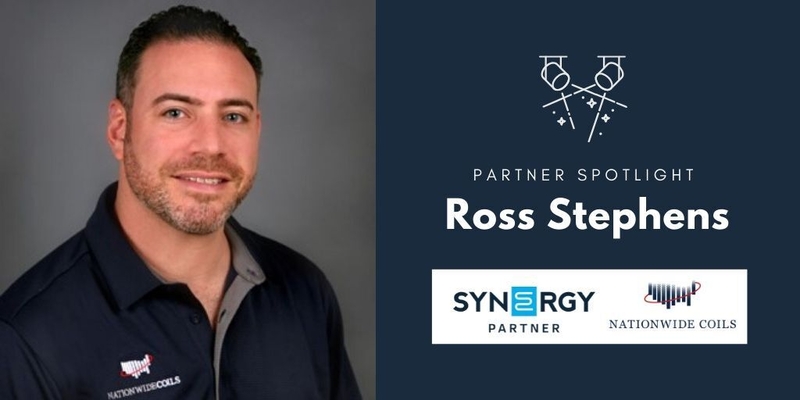 10 Questions with Ross Stephens from Nationwide Coils
News Description
This year Synergy will be spotlighting some of our Synergy Partners to help you get to know them a little bit better. We asked each partner ten questions so we could learn more about them and their business. Check out below to read all about Ross Stephens with Nationwide Coils!
1. What originally got you interested in your current field of work? I wanted to find a niche. While working at a plumbing supply house I was able to learn about coils and how often they are needed. Then I did my research and saw that it was a huge market and I wanted to become a specialist for coils. And that's what I am. Our doors have been open since 2004 (16 years) and we are expanding and growing each year.
2. When someone finds out what you do, what question do they always ask you? How the hell did you get into coils? And it's a long story. Let's just say, I had a vision. Think about this. There are almost 5,000 Walmart stores in the US. Each store has approximately 30 units on its roof. Each unit has at least 2 coils that would need to be replaced from time to time. So, I did the math.
3. What is the career highlight you're most proud of? When I opened the company at 24 years old. It took guts to do what I did. Many sleepless nights and anxiety. But I pushed through the hard times (alone) and came out smiling on the other end. So, I would say taking the leap of faith and opening the business is my career highlight.
4. What do you love most about what you do? I say this all the time, but I love what I do. I wake up every day eager and excited about the challenges to come. Some are good days, some are annoying days, but I do it with a positive attitude which helps. I love being involved in the day-to-day operations and that's part of the key to success.
5. Who inspires you? My wife inspires me daily. We are a team. Without her I would not be where I am today. I also get inspired by other entrepreneurs and their ideas. We all go by the saying "No days off."
6. What is your favorite thing about the area you live in? Being far enough from NYC to enjoy the peace and quiet. (Actually, with my three daughters there is no peace and quiet.) Raising my family in the country but being close enough to NYC to enjoy all that it has to offer. It's the city that never sleeps!
7. What is your most prized possession and why? I have a hobby which is sneaker collecting. Some people would call me a sneaker head. My prized possession is my entire sneaker collection. Something about a fresh pair of sneakers that really does it for me. If only I had a son that would inherit them.
8. What charity or cause are you most passionate about? I enjoy giving to local charities that help the families in my community who are in need. I also support the police officers and firefighters yearly. Very thankful for what they do for all of us.
9. What is the best thing you got from your parents? Tough Love. I feel that tough love is not used enough these days . You need to be held accountable for your actions at a young age to prepare you for what's to come.
10. What is your favorite place of all the places you've traveled? I love traveling our beautiful country. I would have to say Las Vegas is my favorite destination. It allows you to escape reality for however long you are there. (2 nights tops) Can't wait until we have a Synergy meeting there. (hint hint)
About Nationwide Coils: Nationwide Coils, Inc. is a commercial HVAC coil manufacturer and supplier of custom and replacement coils. We custom build replacement coils that are exact duplicate or better than OEM with more durable material than actual OEM products.