SITE BITE PUERTO RICO: MCHX conversions in the AAON® RN-50-3 and RN-70-3 package units, replacing DX evaporator and condenser coils in the Lennox® SCA036H and SCA120H RTUs, and MCHX conversions in the Lennox® LCH180, LCH060H and LCH120H package units.
Go on site with Stephen Barzelatto, VP of Nationwide Coils, as he heads to sunny Puerto Rico for three jobs that keep him working on everything but his tan.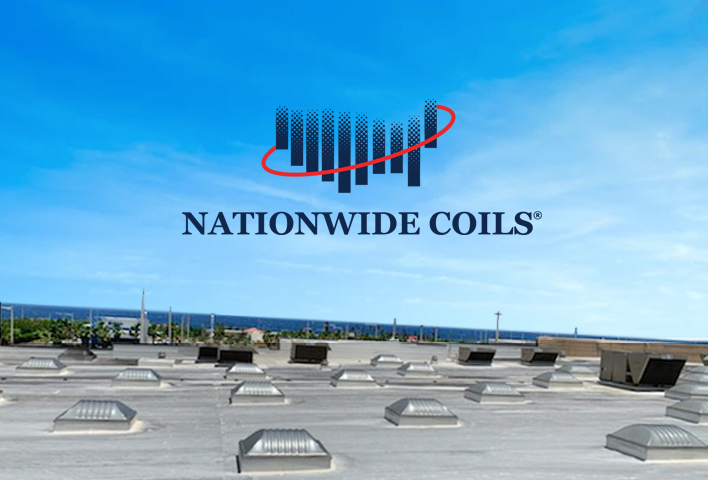 To think, just a few short months ago, COVID travel restrictions were still preventing me from doing what I love most about my job — meeting with customers face to face and assessing a coil project firsthand. So, it goes without saying, I was elated to have the opportunity to head back to Puerto Rico for a multi-site visit.
SITE #1
My first stop was in the city of Hatillo, located on the island's Atlantic coast, to see a large American retailer.
For this job, we had to complete a retrofit design for a microchannel conversion to copper tube aluminum on two Aaon package units: the RN-50-3 and RN-70-3.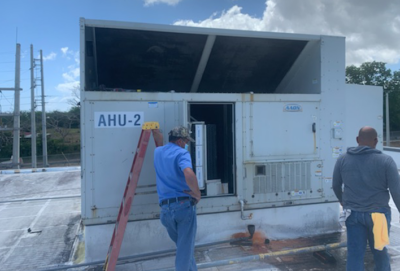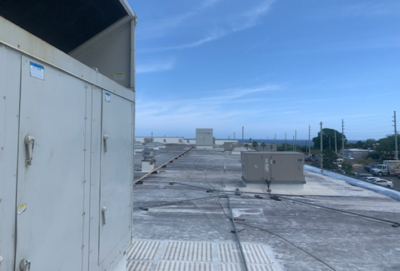 Like many units with all-aluminum microchannels, it had been experiencing constant premature coil failure. Converting the microchannel would not only make this unit more reliable and efficient but easier to service down the line.
Unique to this job, the unit had two circuits and four condenser coils configured in a V. This was our first time designing this specific conversion but it gave us another opportunity to expand our industry-leading database of coil drawings.
SITE #2
From here, I took a 30-minute drive east to Barceloneta to visit another store within the same retail chain. Our task was to replace the DX evaporator and condenser coils in their Lennox SCA036H and SCA120H RTU units. Some job notes of interest:
• The units had standard 3/8" copper tube and aluminum fins
• The DX coil was a circuit intertwined
• Each condenser coil was its own circuit
Additionally, as you can see in the picture, the DX coil was not coated from the manufacturer. All new replacement coils would have a protective coating to help safeguard the coils long term and ensure optimal performance.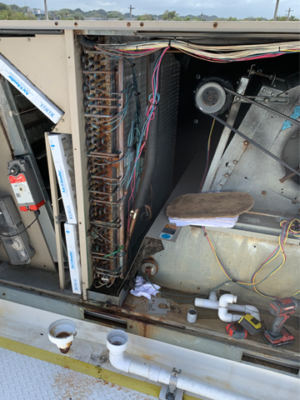 SITE #3
My third and final visit was at a grocery store in Candelaria, a 35-minute drive east of Barceloneta on the city limits of San Juan. This job was a microchannel bonanza! In fact, we had to complete microchannel conversions in seven of their eleven Lennox package units. This just confirmed that MCHX coils are not cut out for hot, humid, coastal environments. It is critical to take this into account when selecting OEM equipment. Efficiency and reducing environmental impact is important but your equipment also needs to be durable, reliable and serviceable.
I started with the largest unit, the LCH180 MCHX, a 15-ton unit with three circuits and two condenser coils.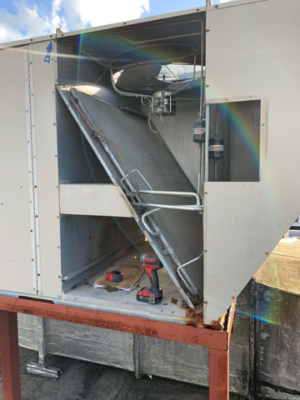 A conversion had previously been done on this unit by my associate, Chris Wright, from our Chicagoland branch. This made my job simple, as I had the CAD drawings on hand to confirm what I already knew — that Chris did an excellent job on the original design. This helped me quickly move on to the next unit, the LCH060H, a 5-ton RTU with one circuit and one L-shaped, bent condenser coil.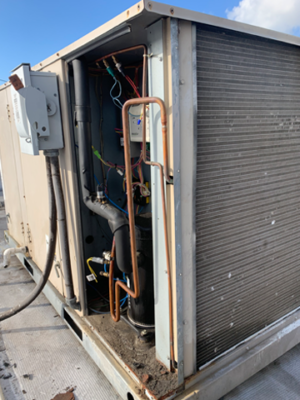 For this unit, no drawings were on file, so I went through our detailed design process to create CAD drawings upon my return to the U.S.
My final set of units were the LCH120H, a 10-ton package unit with two circuits. We did not have drawings on file for this either, so it was the same process as the LCH60.
This was an exciting and fulfilling business trip, particularly coming out of COVID era. Having met with our coil customers in Puerto Rico many times throughout numerous natural disasters, I was truly happy to see some old, familiar faces. As the guy who helps to keep their A/C running, let's just say they were happy to see me, too.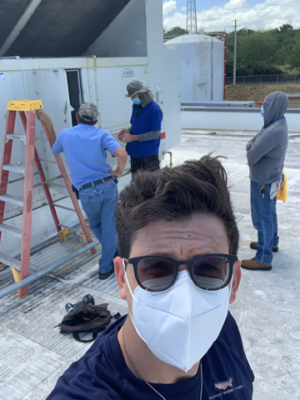 #MastersOfMicrochannelConversion
From Puerto Rico to across the U.S., Nationwide Coils is fully equipped to handle all of your replacement coil needs, including MCHX conversions of all kinds on all scales. Have a question or need a quote, email us anytime.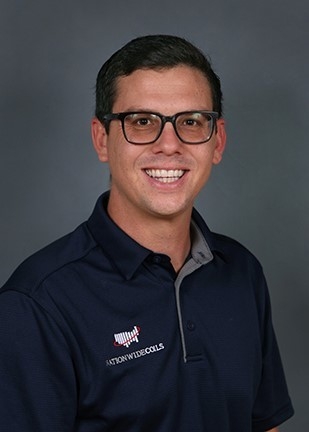 Written by: Stephen Barzelatto
Vice President, Nationwide Coils